Reviews
J anette and Andrew wed on a gorgeous fall day at the expensive Murray Hill in Lessburg, Virginia. DJ G provided music and entertainment from the moment guests walked into the ceremony from until the last encore of the evening. The reception barn included an amazing photobooth inside an old VW bus, and fantastic photography from Perry Vaile.
Josh aka DJ G is an incredible DJ! We hired him for our wedding ceremony, cocktail hour, and reception. His selection of music is on point! I first discovered Josh at another wedding I was photographing for and immediately noticed his professionalism and his ability to work the crowd. Josh's song choices kept the crowd dancing and was appropriate for all ages. He has an incredible ear for songs and an amazing ability to control the flow throughout the night. Josh easily got my wedding attendees to dance for hours with a mix of old and new school songs. Only disappointment was when the night had to end. I HIGHLY recommend DJ G for any occasion and can not praise him enough for his talented DJ'ing. Thank you Josh for making our wedding day so fun and unforgettable!
S hannon and Shane celebrated their union on a Fall evening at the lovely Strong Mansion in Frederick County, Maryland. A festive crowd gathered in a beautiful outdoor setting and stayed warm by dancing to the tunes provided by DJ G Events all night long. Custom cocktails, paired with excellent food and wonderful photography by Rodney Bailey made this wedding one to remember.
As the sun got low and music got loud, the tented dancefloor became packed with partygoers as guests danced to music from all genres; hip hop, top 40, classic big band, and everything in between.
Upon recommendation from a friend, we met with Josh to DJ our wedding. He was so friendly and knowledgeable that we knew very quickly that he would be perfect to provide the party atmosphere we wanted. He delivered all that and more with the help of his wife Jaime. They were incredibly professional from start to finish. They helped to keep the ceremony and reception on track and moving. He and Jaime worked well with our lively crowd and kept the dance floor packed all night. Not to be too cliche, it was the best night of our lives, and Josh and Jaime played a huge role in making that happen. DJ G Events is amazing! ~Yelp review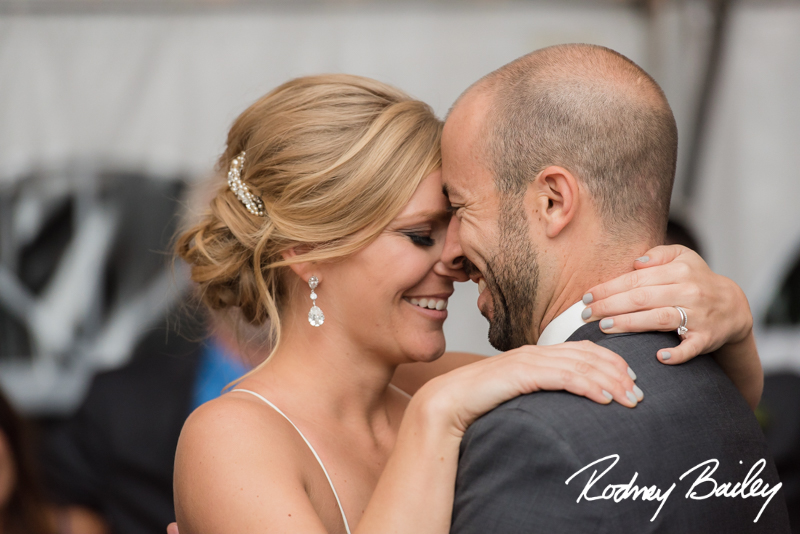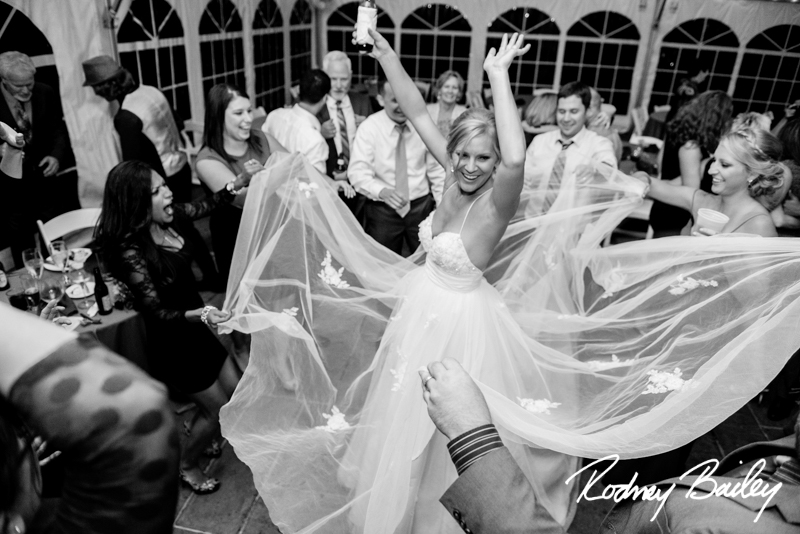 D ave and Jess got hitched at the historic Woodend, an Audubon sanctuary in Chevy Chase, Maryland. An outdoor ceremony paired with an indoor reception allowed guests to both enjoy the warm summer breeze during the ceremony, and an intricate interior surrounding a packed dance floor during the reception.
Dave and Jess, long time personal friends of DJ G, absolutely loved how DJ G Events helped plan and coordinate their special day.
 After watching DJ G work a wedding in North Carolina a year ago, we booked him for our April wedding and could not have been happier or made a better choice.  From the start of the planning process, DJ G was really easy to work with and listened to what it was that we wanted.  He helped us put together our timeline and outside of the songs we knew we wanted for the various events (introduction, cake cutting, etc), we explained the "vibe" we wanted and he put together a fantastic playlist for our pre-ceremony music, cocktail hour, and reception.  Given how busy we were, it was nice to be hands-off in that regard and know we were in capable hands.  DJ G was also a pro on the mic – building up excitement when needed for introductions, but not obtrusive.  Numerous guests all commented to us how good the DJ was, and were happy that he incorporated their requests. All said, DJ G was great and super competitive price-wise for the DC area. I'd definitely recommend him to any of my friends who asked about wedding DJs. ~Yelp review
The wedding between Ruby and Rory was one to remember. The always beautiful Glen Echo Park paired with nearly perfect fall weather made for an amazing event. Guests wore festive attire as everyone gathered in the Bumper Car Pavilion to celebrate the love between two DC professionals.
Excellent food combined with the perfect music, and special groom's dance to Justin Bieber, made this evening unforgettable for all guests – and especially the bride and groom. Photos courtesy of DebiParker.com.
We could not have been happier with DJ G Events. Josh was extremely easy to work with and was easily the most responsive of any of the DJs we contacted (and amazingly, one of the most affordable as well). We also had a bit of a nightmare last minute wedding situation (wedding was at a national park during the government shutdown), but we never had to worry about the music because DJ G was flexible and willing to work with us to make last minute plans.

As for the wedding itself, we left most of the decisions to DJ G to make sure everyone was dancing and having a good time. He did not disappoint. Most impressive was his ability to read the crowd and adapt on the fly. I also really appreciated that he actually mixed songs together to keep the flow going and truly DJ the event. Jaime with DJ G Events was also great at making sure our wedding ran smoothly and her input on how to structure the night was essential.

If you want everyone to have fun at your wedding, hire DJ G Events.  Our friends still bring up how great the music was, and it was definitely one of the highlights of our night ~Yelp review
S hawna and Josh got married at the bride's gorgeous childhood home in Easton, Maryland. Guests were treated to views of a sprawling horse and alpaca ranch, and enjoyed summer themed cocktails to start the evening's festivities. A brief rainstorm did not deter the bride and the groom, nor their guests, from having an amazing time. The dancing guests were having such a great evening that the wedding was extended by an hour. DJ G was happy to oblige the request, and kept people rocking until the wee hours of the morning. The always wonderful Jean Laurent Gaudy photography captured the day.
 Thanks so much again for doing such a fantastic job at our wedding! We had an amazing time and I know our guests did too. I mean we had to extend the party afterall!

 
P aul and Arianna wed at the amazing Walters Art Museum in downtown Baltimore, Maryland. Guests dined and danced surrounded by priceless marble sculptures, works of art, and elegant lighting provided by DJ G Events. Once dinner concluded, the evening festivities began with a punjabi-inspired dance set from DJ G, which got the crowd up and rocking. Transitioning to modern pop and 90s hip hop kept the crowd going all night long.
Thank you so much for making our day unforgettable. You were amazing! 
B ecca and Ronnie tied the knot on a nice fall dat at the historic Waverly Mansion near Baltimore, Maryland. Guests were treated to a decadent cocktail hour followed by dinner, speeches, and dancing from tunes provided by DJ G Events.
After the event, the bride and groom were thrilled with the professionalism and performance of DJ G;
Thank you so much for being an awesome DJ and for all of your hard work in making our day great! 
D avid and Marc celebrated their love on a gorgeous summer day at the McCormick & Schmick located on Baltimore's Inner Harbor waterfront. Guests were entertained from the moment they walked into the well prepared venue with an abundance of seasonal foods, cocktails, and feel-good music provided by DJ G Events. After several toasts, and a special live song and dance performed by a couple playwrights, the crowd was ready to celebrate with David and Marc by cutting a rug on dance floor.
David and Marc's celebration began and ended with a bang as guests were reluctant to leave the venue after having a blats dancing the night away. Credit to Drew Bird Photography for providing excellent photos of the evening.
I was very impressed that DJ G Events helped us develop a detailed timeline that kept the event flowing and provided the backbone to keep the other vendors (and us) on time and organized on the day of our wedding. Between DJ G and Jaime, the dance floor was packed. Just what I had dreamed! After all, what differentiates a mere party from a milestone event is great music and dancing. I would recommend DJ G highly — you and your guests will be so delighted and will have an amazing fun time. We certainly did. ~Yelp review 
T he wedding between Jeff and Katie was a great event.  Both looked smashing in their wedding wear and, combined with the beautiful setting of the Cotton Room in Durham, North Carolina, the new Mr. and Mrs. started their marriage off with class and style.
Jeff and Katie worked extensively with DJ G Events to create the right playlists and the right atmosphere for every stage of their wedding.  From the music for the ceremony, to introductory songs, first dances, dinner music, and on to awesome high energy dance music, Jeff and Katie enjoyed the perfect musical accompaniment throughout the entire event.  Some highlights included the groomsmen being introduced to "Still Fly" by the Big Tymers while the Bridesmaides chose to enter to "Call Me Maybe" by DJ G favorite Carly Rae Jepsen.
Good music combined with good food, love and laughter, created a memorable evening for everyone, especially the father of the bride, who said this about DJ Events…
Thank you so much for doing such a great job as DJ for our daughter Katie's wedding. Josh made the bride and groom and family and friends be the stars of the evening.  Josh was not only a deferential emcee when orchestrating traditional toasts and dances, but also brought an infectious enthusiasm when picking the right music, in the right order, at the right volume. People of all ages dancing and celebrating, and you made it look easy!. Super job!
Many thanks to the staff at the Cotton Room for providing great service, the amazing Hooman at Vesic Photography for the great images that you can find throughout my website, and Jeff and Katie for giving me the opportunity to make their wedding day a special one to remember forever.
S hira and Daniel's wedding was certainly one to remember. An impromptu pickle eating contest paired with some great dancing, toasts, and matching T-shirts, made this wedding a full fledged celebration.
Under the setting of the beautiful Crystal City Hilton in Arlington, Virginia, DJ G Events kept the energy going after a lively klezmer band got the crowd ready to boogie down.  The bride and groom had a blast during the entire evening and the bride said the following about working with DJ G Events.
You did such an incredible job on Sunday! I can't even tell you how many people came up to us and told us how amazing you were.  Thank you so much for everything!