Testimonials
S amantha and Misha's wedding was one of the most unique and energetic parties DJ G Events has ever played.  Crazy crowd dancing paired with homemade Georgian food made for a night to remember at 18th Street Lounge in Dupont Circle, Washington DC.
Samantha and Misha introduced a high stakes danceoff between guests, with the winners chosen from the bride and groom themselves.  Contestants got down on the dancefloor for to 30 second clips of songs spanning every genre imaginable – from country, swing, and rumba, to dub-step, hip hop, and oldies.  The contestants, guests and especially the bride and groom had a blast during the entire evening and the bride said the following about working with DJ G Events.
People have been coming up to us for weeks telling us that it was the most fun wedding reception they've ever been to. Our experience with Josh was fabulous. I would use him again in a heartbeat.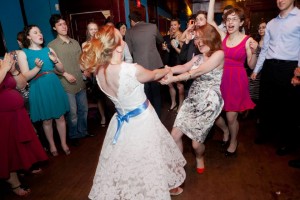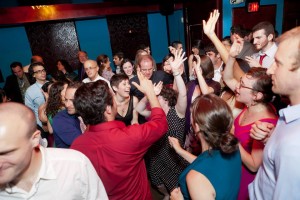 W hat a night to get wed at Glen Echo Park.  Amazing weather combined with a unique vintage setting made Victor and Marissa's wedding cool and classy.  Guests rode on an old fashioned carousel while sipping custom cocktails, and later danced in a classic bumper car pavilion that was renovated into a dance hall.
Marissa publicly detailed her entire wedding planning experience on her blog – the Anti-Wedding, but by the end of the reception it appeared as if she and her groom had become decidedly pro-wedding thanks, in part, to DJ G Events.  Among the many highlights of the evening, including excellent photography by Dakota Fine, Marissa listed DJ G Events as a:
Goal accomplished: our music mixer for the night, DJ G (another one I highly recommend), kept the dance floor bumpin'.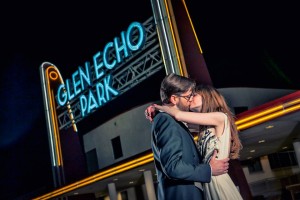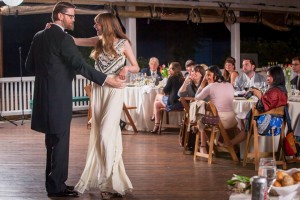 T he wedding between Jeff and Katie was a great event.  Both looked smashing in their wedding wear and, combined with the beautiful setting of the Cotton Room in Durham, North Carolina, the new Mr. and Mrs. started their marriage off with class and style.
Jeff and Katie worked extensively with DJ G Events to create the right playlists and the right atmosphere for every stage of their wedding.  From the music for the ceremony, to introductory songs, first dances, dinner music, and on to awesome high energy dance music, Jeff and Katie enjoyed the perfect musical accompaniment throughout the entire event.  Some highlights included the groomsmen being introduced to "Still Fly" by the Big Tymers while the Bridesmaides chose to enter to "Call Me Maybe" by DJ G favorite Carly Rae Jepsen.
Good music combined with good food, love and laughter, created a memorable evening for everyone, especially the father of the bride, who said this about DJ Events…
Thank you so much for doing such a great job as DJ for our daughter Katie's wedding. Josh made the bride and groom and family and friends be the stars of the evening.  Josh was not only a deferential emcee when orchestrating traditional toasts and dances, but also brought an infectious enthusiasm when picking the right music, in the right order, at the right volume. People of all ages dancing and celebrating, and you made it look easy!. Super job!
Many thanks to the staff at the Cotton Room for providing great service, the amazing Hooman at Vesic Photography for the great images that you can find throughout my website, and Jeff and Katie for giving me the opportunity to make their wedding day a special one to remember forever.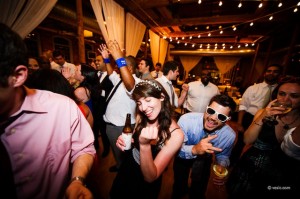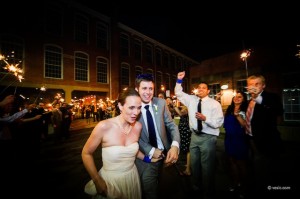 S hira and Daniel's wedding was certainly one to remember. An impromptu pickle eating contest paired with some great dancing, toasts, and matching T-shirts, made this wedding a full fledged celebration.
Under the setting of the beautiful Crystal City Hilton in Arlington, Virginia, DJ G Events kept the energy going after a lively klezmer band got the crowd ready to boogie down.  The bride and groom had a blast during the entire evening and the bride said the following about working with DJ G Events.
You did such an incredible job on Sunday! I can't even tell you how many people came up to us and told us how amazing you were.  Thank you so much for everything!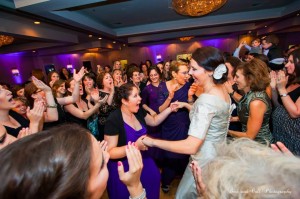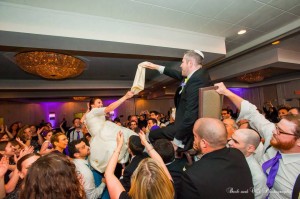 P am and Jen celebrated their wedding on a beautiful spring day at the Kentlands Mansion in Gaithersburg, Marlyand. Both brides were surrounded by friends and family to celebrate their love and commitment to each other.
DJ G Events provided music from the beginning of the ceremony through the end of the reception, and ensured that each song played conveyed the right atmosphere at the right time. Pam and Jen worked closely with DJ G Events to make sure the timing of their event ran smoothly, and combined with some fun dancing and tasty food, made their day one that guests would not soon forget.
After the event, Pam and Jen were thoughtful enough to send DJ G Events a hand written card that said;
Thank you very much for working with us on our special event. We greatly enjoyed the music you put together for us and especially appreciated the fact that you communicated so well with us every step of the way. Again, many thanks!  
Many thanks to the staff at the Kentlands for providing great service, and Pam and Jen for giving DJ G Events the opportunity to make their special day one to remember.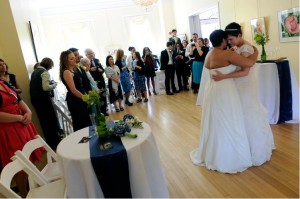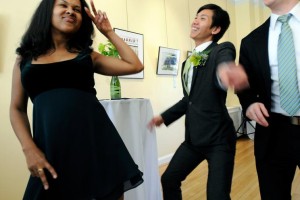 J on and Clara celebrated their wedding in style at the Westwood Country Club in Vienna, VA.  An absolutely beautiful venue paired with perfect weather made for a great evening of eating, dancing, and cheering for the newlyweds.  Mike Lesnick Photography also provided some great shots throughout the evening.
A wide ranging crowd – from octogenarians to teenagers – got in on the dancefloor action and participated in traditional Polynesian dances, organized line dances, and great music from past decades up to the present.  Kimmy, the groom's mother who organized the party had this to say about DJ G Events.
Thank you so much for making this an evening to remember.  You were so great to work with and I would use DJ G Events again in a heartbeat!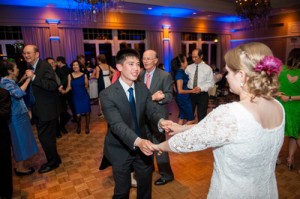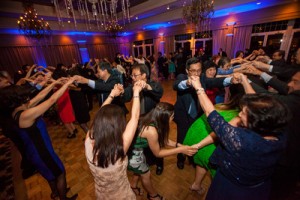 J ohn and Kim had a beautiful wedding at the Williard Intercontinental Hotel in downtown Washington, D.C.  Love was in the air as guests enjoyed a perfect evening of eating, dancing, and cheering for the newlyweds. The crowed cheered for John and Kim as they were raised up on chairs for a traditional Jewish hora, and the party-goers never missed a beat as the dance floor shook all night long. Marlene Waeltz also provided some excellent photography throughout the evening. The bride and groom were beaming on their special day and had this to say about DJ G Events:
Thank you so much for all your help and patience!  We really appreciate your ability to adjust to unexpected circumstances. The music was great and everyone had a super time!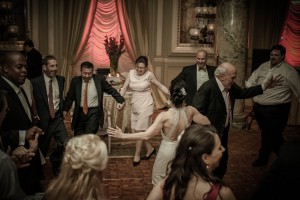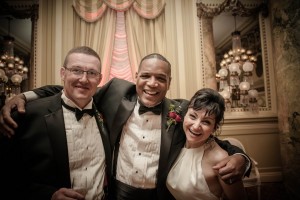 B ig shout out to the graduating class of 2011 from Ardsley High School.  These young party-animals sang and danced the night away to some great tunes, awesome party favors, and good looking venue in Dobbs Ferry, NY.
The whole class enjoyed screaming lyrics to Katy Perry, Flo Rida, as well as some classics by Snoop Dogg, Usher, and other hits from the late 90′s and early 2000′s.  Of course, everyone requested Rihanna and LMFAO, which DJ G events was more than happy to play.
Prior to the event, DJ G Events worked extensively with Ardsley High prom coordinator and history teacher extraordinaire Jessica Berman.
DJ G Events was amazing.  Josh was not only really easy to work with, but was willing to always go the "extra mile" to make sure that the kids had the best night possible.  During the event, Josh was punctual, played GREAT music, and kept the dancefloor packed the entire time.  I would recommend DJ G Events to anyone looking to hire a DJ who is easy to work with, professional and flexible, and who displayed a great report with students and parents alike.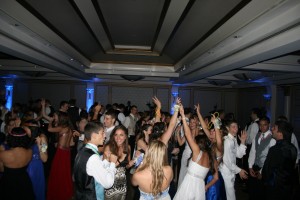 W ow what a great event.  The night began with setting the stage for a wonderful surprise birthday party with dinner, drinks, and dancing at Dutch's Daughter in Frederick, MD.  Judy Harris led great dancing lessons, and everyone enjoyed several line dances and absolutely killed the Electric Slide.  The night included some great video presentations, wonderful speeches, and a lively dance crowd who rocked out all night to hits from the 70s, 80s, 90s, and today!
Thank you for your help and being a great DJ with good music.  Everyone enjoyed the party and they had a great time dancing! ~Daud, Party Organizer
Many thanks to the staff at Dutch's Daughter for providing great service, Niki for helping out with the lights, and the Santosas for giving me the opportunity to provide the entertainment for a great evening out on the town!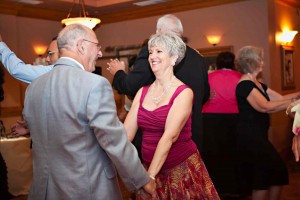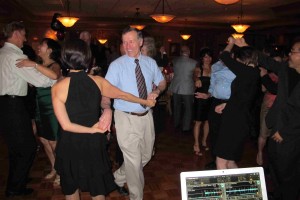 The night was dark, spooky, and filled with people in crazy costumes.  DJ'ing on All Hallow's Eve at 21M Lounge was a total blast.  Beautiful venue, huge crowd, outrageous costumes, and plenty of good dance music made this Halloween one to remember.  Big shout outs to Parisa, Shermineh, and Nobar for booking DJ G Events to make their Halloween party spooktacular, and to 21M Lounge for hosting the event.
Halloween is always one of the best party weekends of the year, and DJ G Events did not disappoint! Josh played outstanding music that kept the party going all night long, was always open to requests, pumped up the crowd via announcements on the mic, and helped make our party a huge success! I would recommend DJ G Events to anyone looking for a fun, sociable, friendly, and easy to work with DJ. Thanks DJ G! ~Parisa, Event Organizer